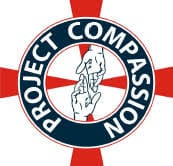 Project Compassion began in 1972 when Gloria White visited a friend living in a nursing home. She was stunned by the number of residents who had no visitors. It started as a one-to-one visitation program and that is still the heartbeat of the organization.
What We Do: Our mission is to bring joy, companionship, and quality of life to residents of nursing homes.
How: Over 300 volunteers provide one-to-one visits, assist with group activities such as cards, crafts, bingo, and pet and music therapies. There is never a fee for our services.
Hearts of Gold, our annual holiday gift drive, strives to provide meaningful Christmas gifts to the residents in every facility we serve. Gift ideas include sweatsuits, pajamas, socks, house shoes, etc. For many residents, especially those with no family, these may be the only new items they receive that year.